About Us
Lunar Flicks, a division of Easterday Promotions, produces outdoor movies for communities and businesses. Our mission is to energize neighborhoods and gather friends, colleagues and neighbors for an unforgettable experience. We are proud of our 20 years of experience and look forward each year to bringing the magic of outdoor movies to new locations.

Clients
Lunar Flicks was first to bring inflatable screens and digital projectors to outdoor movies in the Northwest. We have produced hundreds of outdoor events including the 25th anniversary of the Rocky Horror Picture Show, a pajama party for a showing of Willy Wonka, and even a sing-along to The Sound of Music! From twenty people to two thousand, we can dazzle your audience. Our clients include Redhook Brewery, the City of Seattle, Vulcan, Seattle Center, Comcast, the City of Issaquah, University of Washington, the City of Des Moines, Seattle University and many more! Now in Jacksonville, Florida!
Services
We have multiple screen sizes to fit your needs and the projection and sound equipment to match. Our friendly and experienced staff will take care of the entire set-up, run the movie, and break-down after the show. We do it all so you can enjoy your event as much as your guests!

Extras
Along with our basic movie packages, Lunar Flicks can provide additional services to make your event even more extraordinary:
Sponsorship opportunities
Concessions / beer garden services
Promotional advice
Pre-movie slideshows or commercials
Giant screen banner
Vendor relations


Lights! Camera! Action!
Call us (206) 720-0359 or e-mail us at info@lunarflicks.com.
Then just sit back, relax, and let Lunar Flicks put on a fabulous show for you!
Lunar Flicks is a business unit of Easterday Promotions.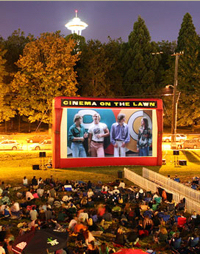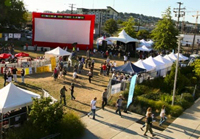 Photos by Patrick Lennox Wright